PDR window wedge: guide and information.
The window wedge is the most underrated tool a PDR tech will own. I always keep at least 1 in my pocket.
The simple but always reliable wedge is a fantastic all round tool, I have about 4 in my box, and always make sure they are nice and sharp.
Not only does it do what the name suggest and wedge open the window well between the window protector and the outer panel for easier PDR access, but it can also double up as a striker for your knock down tool.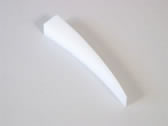 There are fancy pump up versions which are very cool, but call me old fashioned I love the simplicity and ease of the basic model.
Easy to make and cheap to buy, these tools are essential for every PDR tool box, and I always carry 1 around in my pocket with my knock down tool during the day, just in case.


Return from window wedge page to home page