PDR Quote

Mobile, iPhone





PDR Quote is business management software ideal for PDR or Auto mobile repairs, allowing the user to create professional Quotes and Invoices straight from their iPhone.

PDR Quote does what you need, and does it extremely well

Close more sales, reduce paperwork & increase your profit.

What do our customers say?

Having recently purchased your PDR Quote System for the iPhone, I'm writing to say how impressed I am with it.

PDR Quote is a tremendous system, it was simple to install and is easy to use. I no longer have to carry a quotation pad and separate invoice book, it allows me to type customers details straight into my iPhone and using my wireless printer, print off quotes there and then.

Quotes and invoices can be forward directly to insurance companies via e-mail which saves on paper and postage. It simply gives a more professional image to the whole process.

PDR Quote has made a big difference to my business, the system makes me more efficient and it's a one off payment, no more re-ordering expensive invoice or quote books. I wouldn't hesitate in recommending it to any other PDR business.

Lee Gatfield
Proprietor
AutoDents Qld
RACQ Selected Repairer

Mobile quoting system, on the spot quotes and invoices
Faster turn around on jobs
No quoting or paperwork at night
Less likely for the client to shop and get a competitive
quote
Faster decisions
Close more sales
Appear more professional
More jobs completed in a day
Save time, save money
One off cost for the system (no need to reorder quote books or paperwork)

Less paperwork, faster sales & increased margins



PDR Quote is the most efficient, convenient and cost effective quoting programs on the market. This is the first system we have seen that realizes it only requires a simple solution.

PDR Quote stands head and shoulders above any other system i have seen. By the time you boot another system up, you can have the quote complete with PDR Quote.

The simplicity of the design and the ease at which the program can be customized are making this program a fast favorite.

Based on my use of this program I would not hesitate to recommend it.

Steve Smith
PDR Tools.com
Managing Director

.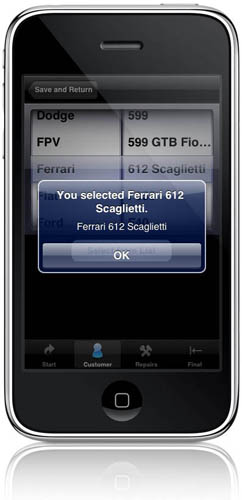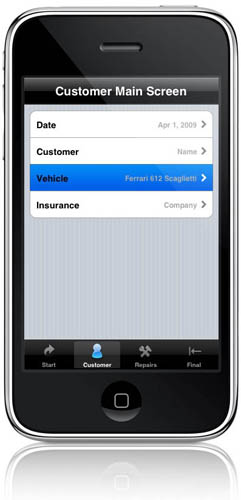 1. Ease of use (with touch screen and easy customizable buttons)
2. Convenience (you may not have your quote books, but i bet you always have your phone)
3. Email directly from phone to your customer, and also send one back to home-base at the same time.
4. Digital copies of every quote and invoice in your picture library after you sync your iPhone allowing you to sort by dates.
5. Backup with ease, on a CD, rather then filling your office with boxes of old invoices.
6. Paperless (the way of the future is email, not written quotes, although you have the option to print if you like)
7. Professional (customers will notice see testimonials).
8. Price (Other Panel quoting options can cost as much as $15000 per console, PDR Quote is a once off fee - no lease)
9. Availability (It is available right now on iTunes)
10. Safety (Purchase from iTunes safe in the knowledge that you are dealing with a company with a proven track record).
How much do you spend on Quote or Invoice books?Are you spending up to $50 a book, and a minimum of 10, that is $500 a pop.
PDR Quote will eliminate this problem, and have you quoting straight from your iPhone in seconds.

---
PDR Lite is a free version of the software available for download directly from iTunes. This version has all the functionality of the full version without the ability to see your totals on your Invoices or Estimates, giving you the chance to try the software before purchasing.

---
Features include:
Large Database of vehicles from all over the globe (900+ makes and models).
Personalize your forms with your Company name and countries tax codes.
Forms saved as images to allow easy emailing to insurance companies or customers.
Customizable repair prices, tax codes and insurance companies, and all Panel names.
Change light, medium and heavy prices for all panels from your phones settings or simply enter a price manually.
Create a new customer or select from your phones Contacts.
Adjustable incremental Quote and Invoice numbers to assign to different employees.
Give a percentage of repair total with easy slider function.
Note previous damage with easy to use touch screen.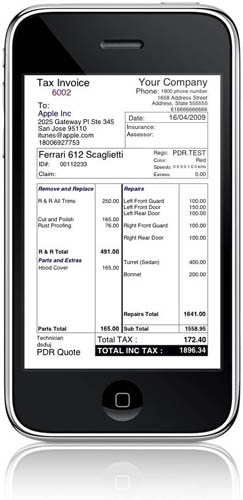 Exclusivly for the iPhone
Watch the video to see it in action
Return from PDR Quote page to home page