PDR Packages with training and automotive tools
PDR Online is proud to introduce a new PDR training package with instruction plus repair automotive tools for those whom want to get started immediately into the PDR industry.
We want to make the best and cheapest PDR training package on the market today, and one thing we have noticed with people that don't fully understand the PDR Online training concept, is that they believe they could get a few tools and a practice panel and teach themselves.
Well you can.
That is right you can, but only if you have the right information and the right automotive tools, that's where we come in. Let's go through what the PDR package includes.

This is the new hail training rod, this little beauty is one of the quickest automotive tools on the market for experienced techs, and one of the best training tools for you new to the trade.
The Tee-Bar head is designed for 2 different tips to be used simultaneously, swapping between a sharp tip and a blunt tip to remove the dents faster and cleaner.
The tips are interchangeable and this rod comes with the 3 most widely used, Sharp, Blunt, and round. For more information about this hail training rod click here.


---
PLUS
Add to that training tool, PDR Online training software.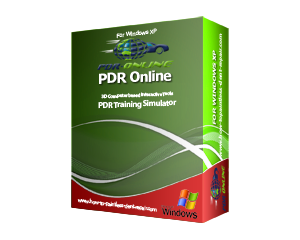 A fully interactive training simulation on your PC, with full video tutorials and real time correction methods.
This program will allow you to peel away the layers of the metal to see exactly how to take that dent out, so that when you are practicing you will have more of an understanding of the process you are trying to achieve.
For more on PDR Online please watch some of the videos found here on the site or head here.


---
PLUS
Next we are going to give you a PDR Training DVD, this DVD covers all different aspects of PDR including lights access and dent removal.
This standard DVD will play in any DVD player, and is designed as a stand alone training visual.


---
PLUS
You will also need some accessories to help get you started, so we will include a knock down tool, and a S hook to help finish out those jobs.


---
All you need to do is supply a practice panel and some determination and you are well on your way to getting started in the PDR industry.

Sounds expensive doesn't it?
What about the lot for just $400 Australian dollars plus $50 postage.
There is no training automotive tools on the market today that even comes close to this package in value for money.
If you are interested in PDR, or want to add to your current skill set it simply doesn't get any better then this.


NOTE: We have received feedback PDR Online may be unstable running on Windows 7, please be aware that it works best with Vista or XP.Unless you have access to XP or Vista please do not download the program at this stage. We are working on the issue, and will get back to you shortly.


Please inquire further about our training package which includes:
1 x hail training rod (as above)
3 x Tips (Blunt,Sharp,Round)
1 x PDR Online training CD-ROM (Hard copy)
1 x PDR Training DVD (covering all aspects of PDR,)
1 x Knock down tool
1 x 'S' hook
(Please allow up to 3 weeks for delivery)
Please Fill out the form for more info:



---
To have a look at more automotive tools click here.
---