Whale tails the most loved PDR tool.
Whale tails will be one of the most loved and used PDR tools you will own, and will get you out of most tight situations.
Named for the shape of there head, these handy tools are the ones you will use to get under those tight braces.
Designed to have the leverage on the edges of the tool tip, these tools slide under most tight places around the hood, and sunroofs and down door braces. They come in all lengths from 1 inch to 5 foot. Great tool and is a must for any PDR hopeful's tool kit.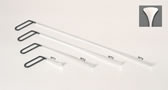 Example of use:
You have a Door dent about half way down the door. In most car door's there is a large brace running though the center of the panel. This is what is commonly called a trusion bar, this safety feature increases the passengers protection in a side on collision.
They are a necessary feature, but for a someone removing a door dent they can be quiet frustrating. One of the ways around these is to use a whale tip tool to slide down the window well, and enter the gap between the trusion bar and the outer panel.
Return from Whale tails page to home page