Veh Quote
Mobile, iPhone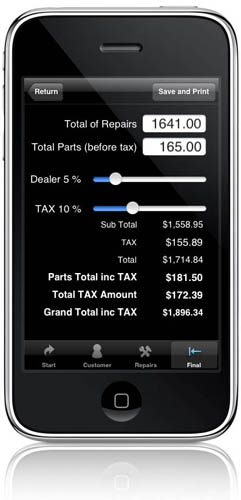 Veh Quote is business management software ideal for Auto mobile repairs such as windscreen repairers, Window tinting, Paint touch ups, gold plating, stereo installers, allowing the user to create professional Quotes and Invoices straight from their iPhone.
Veh Quote does what you need, and does it extremely well.
All this is an easy-to-use package. For a free preview, check out Veh Quote Lite at the iTunes App Store.
Client Management
Create and edit clients that integrate with your iPhone contact list.
Email PDF rich estimates and invoices from your iPhone to your client.
Professional
Customize invoices and estimates with your company logo and look like a pro.
Use a watermark to further customize your final forms, giving your company that professional edge.
Completely customizable
Save time, save money
On the spot quotes and invoices
Faster turn around on jobs
One off cost for the system (no need to reorder quote books or paperwork)
Close More Sales
Less likely for the client to shop and get a competitive quote
Faster decisions
Requirements
Compatible with iPhone and iPhone Touch. Requires iPhone OS 3.0 or later.


Close more sales, reduce paperwork & increase your profit.
Less paperwork, faster sales & increased margins

1. Ease of use (with touch screen and easy customizable buttons)
2. Convenience (you may not have your quote books, but i bet you always have your phone)
3. Email directly from phone to your customer, and also send one back to home-base at the same time.
4. Digital copies of every quote and invoice in your picture library after you sync your iPhone allowing you to sort by dates.
5. Backup with ease, on a CD, rather then filling your office with boxes of old invoices.
6. Paperless (the way of the future is email, not written quotes, although you have the option to print if you like)
7. Professional
8. Price (Other quoting options can cost as much as $15000 per console, Veh Quote is a once off fee - no lease)
9. Availability (It is available right now on iTunes)
10. Safety (Purchase from iTunes safe in the knowledge that you are dealing with a company with a proven track record).
How much do you spend on Quote or Invoice books?Are you spending up to $50 a book, and a minimum of 10, that is $500 a pop.
Veh Quote will eliminate this problem, and have you quoting straight from your iPhone in seconds.
Return to home page from Veh quote