Mobile PDR Repairs - Mazda 6
The following mobile PDR repairs have all been completely done by the paintless dent repair method.
No painting has been done to these jobs at all
This Mazda 6 was completed on the 22nd of September 2007. In Surfers Paradise Gold Coast Australia.
BEFORE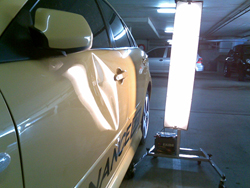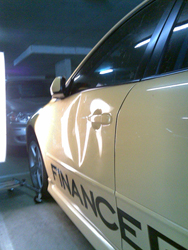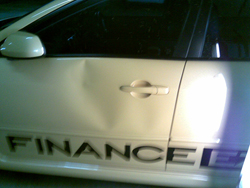 When i first saw this job, my initial reaction was to say "no". Due to the size of the dent and the amount of metal that had been stretched.
But the lady that damaged the car was in an awful state, as the car had only just come back from the body shop after another accident.
I told her that we would do our best, and undersold the repairs, so she understood completely that if it didn't come out her only option would be a body shop.
I started this mobile PDR repair by first using the suction cup end of a reflector board, and pulling the main part of the damage out. Then i turned to glue tabs, and pulled out another section or 2.
By now the main part of the dent was gone, leaving 3 main dented areas, one at the top of the door near the drip rail mould. The second around the body line, and the third down lower to the trim.
Mazda 6 are good for access, there is a main trusion bar running though the center, but the top is open nearly all the way.
I opened the window well, and protected the window, then used a soft tip tool to work the main lows up, exactly as shown in the PDR Online program tutorials. Then switched to a sharp tip tool, and again as shown in the video tutorials in PDR Online, finished off the rest of the dents.

AFTER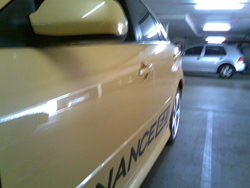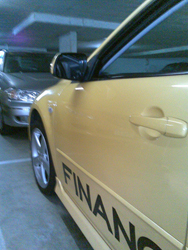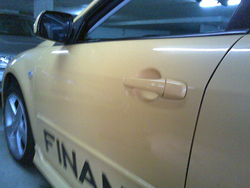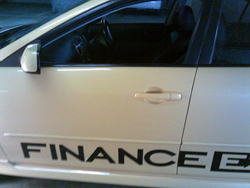 To say she was overjoyed would be an understatement, as i had nearly convinced her to go to a body shop before starting the repair.
The reason i did this was 2 fold:
I wanted to cover myself in case it did not come out.
I wanted her to be elated if it did come out.
The whole repair took 35 minutes, and i charged $150. I could have charged a lot more, but as i was unsure how much of the main area was going to come out with the glue, i wanted to give myself an option to still get paid if i couldn't complete the job 100%.
This job followed the video tutorials from PDR Online exactly, first the Crease tutorial, and then the eyebrow tutorial, then the main dent tutorial.
If you are interested in learning about these methods of Mobile PDR repairs, then head to PDR Online.
With this program, you will learn how to lift a dent without breaking the paint, and see the different methods used to bring large areas like this up, and where you should be pushing.
Head from mobile pdr repairs to the PDR Online section