Kens Toolbox
by Ken
(Gold Coast, Australia)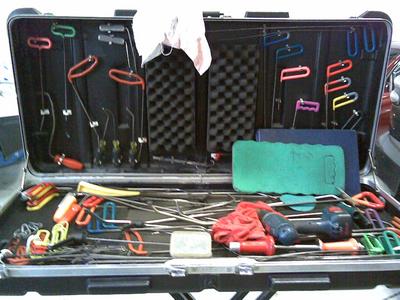 Ken's PDR Toolbox
When designing my tool case, practicality was the key. As I am constantly pulling it out of the truck and reloading it back in, I went for a Organ case for the box which i modified and cut out 4 inchs, and a piano stand with casters attached for my trolley.

I have a selection of tools, ranging from Dentcraft whales, A1 Rods, PDR-Tools for my glue gun and accessories and also my interchangeable handle tools.

The light I have is a 12 volt Ultra dent light, that i have modified to as I use a straight edge over the fog.

For knock downs I have a dentcraft aluminum 3 1/2 inch interchangeable tip knock down.

I use a A1 slide hammer for glue pulling, with a selection of titty tabs.

Currently I am using the red and yellow glue for all glue pulling. As it is getting hotter here i find the red glue to hold the best.

I still have a couple of home made tools that stay in my box, and i like the Bufflex and Candy Block for a sanding option.

The one tool I really couldn't do without is a tool designed by A1 called the 'Drew tool'. This tool is a must for any tool kit, with its flexibility and strength in the head second to none. Just last week I was fixing a porshe that had a deep dent past the fuel cap, This 'Drew' tool slides along the contour of the quarter bending to the shape of the car and making access a breeze.