Dent repair hammers and dollies: guide and information.
For larger dents, dent repair hammers and dollies are a great addition to your PDR kit.
Dent hammers and dollies are always in a master technicians tool kit. They are mainly used to break the shoulders of large hail and or dents.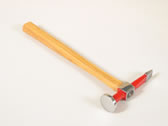 The idea behind the breaking of the shoulders of a dent, was introduced to me back in 1999 in Sydney Australia during a massive hail storm where the cars were literally crushed.
Most dents on those cars were about 4 inches in diameter and there were thousands on each auto. We had no choice but to try and break the shoulders of the larger dents to remove the volume of the damage. This is where the dollies and panel hammers come into play.
To know more about how the dent is formed and breaking the shoulders of a dent, head to PDR-Online now download this amazing software that will teach you some of the advanced techniques of large dent removal.


Return from Dent repair hammers and dollies page to home page