Welcome everyone to the October edition of PDR tips and Tricks. The Ezine designed to keep you the technician up to date with latest tools and news in the PDR industry.
There has been some major upgrades to PDR Online training software lately, we have changed the registration time limit from 30 days to a massive 12 MONTHS!!! at no extra cost and also added a limited FREE TRIAL, so if you haven't got yourself a copy of the program already, don't hesitate any longer.
We have also increased our free trial period from just the month of September to the end of 2007.
This gives everybody a chance to learn at there own pace and not have to worry about there registration running out.
We have come across a small glitch, where some computers came up with an error of something like : un-handled exception occurred attempted to read or write protected memory
This is a Video Card driver problem and can be easily fixed, head to here for more information Click here

Here is some before and after photos of a job completed on the 23 of September, in Surfers Paradise.
This job took me about 45 minutes to complete, the Lady that owned the vehicle was very impressed.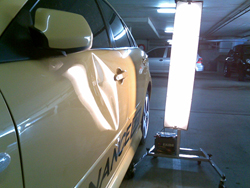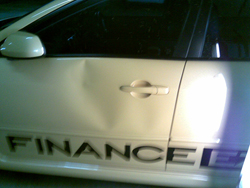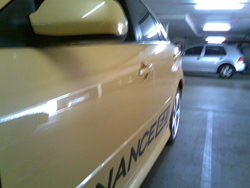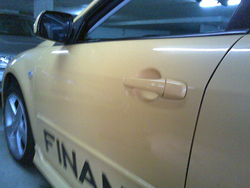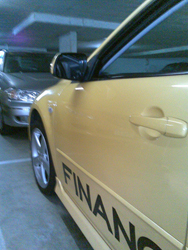 PDR QUICK TIP: This Job was made easier by suction cup, and pulling majority of the large dent out that way, then a soft tool to finish it.
Stay safe Remember repetition is the mother of all skill, and practice does make perfect.
Shane Anderson